Keep up-to-date with Climate Action news, events and resources!
The ClimateFast newsletter shares information about the Climate Crisis that may interest our readers, and does not necessarily reflect the views of ClimateFast members. If you have an event or resource you would like to share, please send it to newsletter@climatefast.ca.
CLIMATEFAST NEWSLETTER - SEPTEMBER 2022
ClimateFast @ the Global Climate Strike
ClimateFast members in Toronto and the GTA will be meeting up to attend the Global Climate Strike hosted by Fridays for Future Toronto on Friday, September 23. We will gather at 60 Lowther Ave. between 1:00 and 1:30 pm, then walk together to the rally at Queen's Park (an approx. 15 minute walk). All subscribers are welcome to attend with the ClimateFast contingent!
Municipal Elections
Municipal elections are being held across Ontario on October 24, 2022. Think about the kind of community you want to live in and learn which candidate best represents your views. 
ClimateFast is one of several organizations that have developed tools and resources to help you find a candidate that will be a climate action champion. We have prepared a list of questions that can be put to candidates via phone or email, at debates, or on social media; these questions were devised with Toronto in mind, but many can be applied to other municipalities as well.
CALLS TO ACTION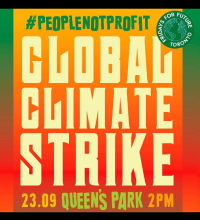 Global Climate Strike - #PeoplenotProfit
September 23, rally at 2 pm ET, followed by a march
Queen's Park, Toronto
In September, 2019, people here in Toronto and across the world took to the streets to call for climate justice. Our strike really put climate on the public and political agenda! Yet so much more needs to be done. Three years later, fossil fuel-driven climate change accelerates. Droughts, heatwaves, wildfires, and massive floods put millions of lives at risk around the world while Canada continues to build pipelines and the province of Ontario paves over the greenbelt and ramps up carbon-polluting power-plants. Meanwhile, fossil fuel corporations, backed by big banks and government, rake in record profits as the cost of basic needs like food and housing increase, wages stagnate, and workers fall farther behind. That's why FFFTO and allies representing students and youth groups, the labour movement, social justice organizations, environmental and faith groups, the arts, and more, are asking everyone from all walks of life to join them for another big global strike. Let's rally together for action that serves people not profit!
Facebook Event
Instagram: @Fridaysforfutureto
S23 Strike Website
Global Map of FFF Events on September 23

Public Consultations on Capping GHG Emissions from Oil and Gas Production
The Government of Canada is currently seeking input from the public on their proposed plans for limiting emissions from the oil and gas sector. This industry is the largest single contributor to Canada's total GHG emissions. Climate Messengers Canada has produced a toolkit to clarify the proposed policy changes and guide people through the consultation process; the David Suzuki Foundation has also provided a helpful template. Responses can be submitted via email to PlanPetrolieretGazier-OilandGasPlan@ec.gc.ca. The deadline to submit a response is September 30th, 2022

Read more of the September Newsletter
---
Read our past issues: