Canada's Climate Adaptation Strategy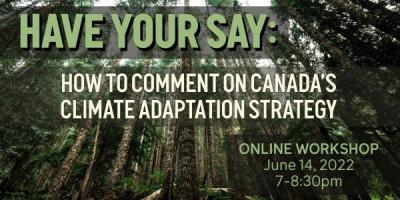 Canada's changing climate is causing deep and lasting impacts on our society, economy and environment. The Government of Canada held a National Adaptation Strategy Consultation to collect ideas and comments for the development of a Canadian blueprint for climate preparedness. On June 14th, ClimateFast, in partnership with Toronto 350, Climate Legacy and Nature Canada, held a webcast to encourage people to participate in the National Adaptation Strategy consultation. 
Liberal's Federal Budget Priorities Survey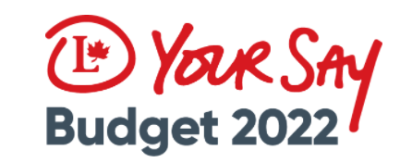 In February 2022, the Liberal Party of Canada initiated a consultation on federal budget priorities. It offers some options to choose climate action and other priorities that are aligned with ClimateFast's values.
Have your say!
Fill in the federal budget priorities survey
 
Federal Climate Plans Consultation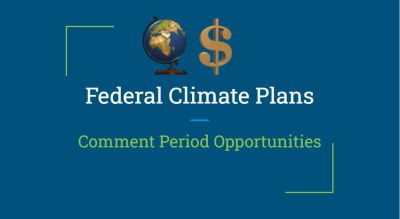 Because the government passed the Climate Accountability Act in June 2021 they now have a responsibility to bring out a climate plan by March 29, 2022, and they are consulting with the public in advance of writing up the plan. On Monday. January 11th ClimateFast hosted a webcast with Climate Messengers of Canada to inform people about the consultation and guide them through the questions. Our speakers included Colleen Lynch of ClimateFast and Toronto 350 and Tam Miere of Climate Messengers. Read more
 
Fossil Fuel Election Pledge Campaign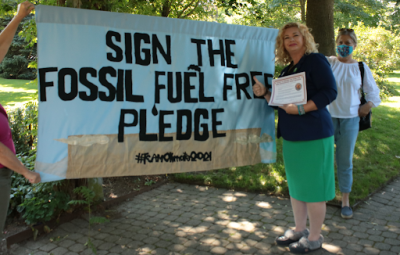 During the 2021 federal election campaign TeamClimate 2021 urged candidates to endorse the Fossil Fuel Non-Proliferation Treaty Initiative.
Candidates from three of the major federal political parties have pledged support for the Treaty. ...Read more
Green Party candidate Amanda Cain signs FFNPT pledge at Rosetta McClain Gardens, Toronto.
---
Our Statement on the Federal Budget
APRIL 19, 2021
Today's federal budget states "Climate change is real...Our human impact on the environment will have lasting consequences if we fail to come together to take bold and ambitious climate action." Sadly this budget does not recognize that we are in a climate emergency. There is no vaccine for the climate emergency which threatens to swamp the COVID crisis in its impacts.
While it is positive to see support for child care and other social supports what kind of world will these children be growing up into?  We must take seriously the Intergovernmental Panel on Climate Change ultimatum that we must cut emissions 50% by 2030. Limiting  Global Warming to 1.5C requires rapid, far-reaching, and unprecedented changes in all aspects of society.  We are not seeing that in this budget. Canada is the only one of the G7 countries along with the European Union that has increased their GHG emissions since 1990, and by 21%!
Canada is a climate laggard and our children will pay the price. 
Measures outlined in the government's own policy reports -  A Healthy Environment and a Healthy Economy and the Pan-Canadian Framework on Clean Growth and Climate Change (both released in 2020) -  were designed to enable Canada to exceed its 2030 Paris Agreement commitment of a 30% reduction of greenhouse gas emissions below the 2005 level, a drop from 730 million tonnes of carbon dioxide equivalent (Mt CO2 eq.) in 2005 to 511 Mt by 2030.
Federal funds dedicated to fighting climate change in this current budget are fundamentally inadequate to meet the magnitude of the climate emergency. This is a lost opportunity to rebuild from COVID for a green recovery with all the economic co- benefits including job creation. We expect this Government, with its promises of green recovery to invest much more in the transition we need.  The amounts being proposed are an order of magnitude too small.  Budgeted amounts for retrofits, for example, represent less than 10% of the investment needed to achieve our GHG reduction goals by 2030. That would bring it in line with the proposed expenditures for a green recovery under the Biden administration, a total of $1.9T.  Canada is approx. a tenth of the population of the USA, so that would be $190B. 
We need a massive improvement in this plan. Climate is a side-show in this budget.  It needs to be central to avoid the worst of climate catastrophe. We must not abandon our children and grandchildren with inadequate action.
Lyn Adamson,
Co-Chair, ClimateFast
---
CANADIAN CLIMATE ACCOUNTABILITY ACT
We need one!  
Canada has missed every single emissions reduction target it has ever set.  The adoption of a Climate Accountability Act could change that.  The CAA proposal developed by Ecojustice and other organizations would get us on a pathway to a low-carbon future by legislating targets, establishing an independent advisory body, and mandating five-year carbon budgets, impact reports, and climate plans. 
We need to advocate for a CAA and we need to advocate for increased climate ambition – a target of 60% below by 2030. 
---
CLIMATEFAST'S SUBMISSION ON THE FEDERAL BUDGET
August 3, 2020
Download ClimateFast's submission on the budget.
We used several reference docs to put our submission together including:
---
STRENGTHENING FEDERAL CLIMATE ACTION 
Below a few other articles about federal climate action.
Seven principles to align COVID-19 recovery with Canada's climate commitments: Canada Climate Action Network, July 7, 2020
Aid for energy heavily weighted towards fossil fuels in COVID-19 response: Mia Rason in National Newswatch, July 15, 2020

Canada's Pandemic Response Sends $16 Billion to Fossils, Just $300 Million to Clean Energy, Global Energy Policy Tracker Shows: The Energy Mix, July16, 2020

For more info on Canada's record see: 
Energy Policy Tracker: The Energy Policy Tracker database is updated on a weekly basis, to provide the latest information about COVID-19 government policy responses from a climate and energy perspective.
International Institute for Sustainable Development - Global Subsidies Initiative: tracks, quantifies and evaluates G20 countries' energy subsidies.
This article is a reminder of just how urgent the situation is and how poor Canada's record is: https://www.nationalobserver.com/2020/07/16/opinion/global-fossil-burni…
Global fossil burning breaks record in 2019. Canadians in top 1%: Barry Saxifrage in Canada's National observer, July 16, 2020