City
This sessions will be held online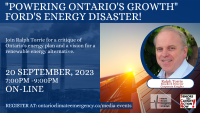 Join us for this webinar on September 20, 7:00 p.m. to fight back against Ford's disastrous energy plan.
The Ford government has released a plan for massive growth in fossil gas and nuclear power - and nothing for renewables and conservation! Download the plan.
In this webinar, organized by Seniors For Climate Action Now! (SCAN!) and Ontario Climate Emergency Campaign (OCEC), Ralph Torrie, Senior Researcher for Corporate Knights, will explore alternative low cost and climate-friendly plans for Ontario's energy future.