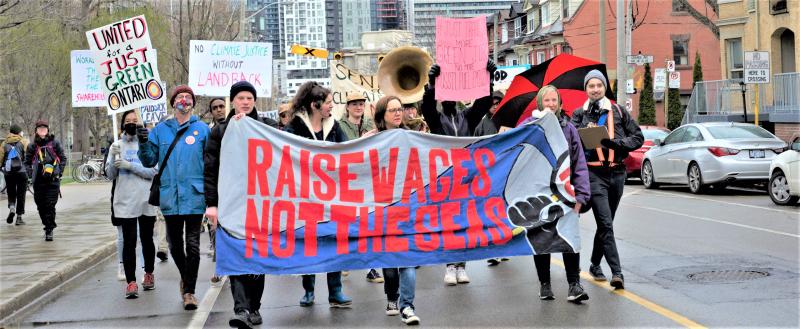 ClimateFast was an active participant in the joint climate justice-workers May Day rally in Toronto on May 1, 2022.  The Ontario Federation of Labour led the organization of this Workers' First province-wide day of action for a better Ontario, calling for...
"a $20 minimum wage, decent work, affordable housing, paid sick days, well-funded public services, livable income support for all, climate justice, status for all, and an end to racism and oppression." 
The city-wide rally was held at Queen's Park, with over a dozen feeder marches representing various unions, organizations, and groups coming from all over downtown. (See the CBC News article)
Thousands of essential workers, union leaders and community organizations gathered on May Day at several locations in downtown Toronto, as well as in over 20 other Ontario cities and towns, for rallies calling attention to issues impacting workers.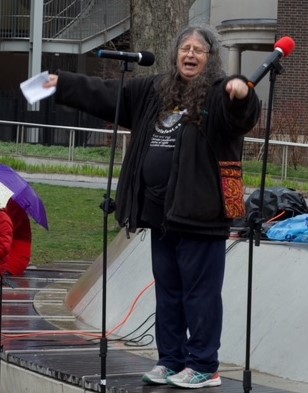 ClimateFast Co-Chair Lyn Adamson spoke on behalf of the Ontario Climate Emergency Campaign OCEC) on the need for climate action, good low-carbon jobs, and a just transition. Here speech was recorded and can be viewed on the ClimateFast website here.
ClimateFast is a founding member of OCEC, which was launched on April 27th. OCEC is a non-partisan campaign promoting a 12-point Climate Action Plan to all parties and candidates. Over 200 organizations representing over 700,000 Ontarians have joined OCEC. Together, with a united voice, the Ontario Climate Emergency Campaign is empowering citizens to cast their vote in the June 2nd provincial election to drive the urgent transformational changes needed to secure the present and the future of all Ontarians.
More about OCEC
Below are some more photos of ClimateFast supporters taken by volunteers Susan Bakshi and Sandra Dosen at the Toronto May 1st Rally and March.