It has been an incredible summer with climate impacts coast to coast to coast. Massive dislocation due to forest fires, and major flooding events. More than six times the area burned on average in the last ten years, and the summer's not over yet. It's a crucial time to raise our voices for climate action! And we have a full calendar of events in September to give you a place to raise your voice, with others. We invite everyone to get involved in a Global March to End Fossil Fuels action between Sept 15 and 17. Please scroll down for these opportunities - and join us! Together we can really make a difference.

Global March to End Fossil Fuels
September 15-17, various times, various locations
This September, while the United Nations holds a summit on the future of fossil fuels, people around the world will take to the streets to demand a transition away from oil and gas that is 'fast, fair and forever'. The flagship march will be held in New York City, and other events are being organized around the world.
Toronto Rally and March to End Fossil Fuels
Saturday, Sept. 16, 11 a.m. to 1 p.m.
Queen's Park. Toronto. Rally is at 11:00, march at 12:00 noon.
Join us and other social justice and environmental groups to add our voices to the fight to end fossil fuels!!
If you can volunteer, please do! We need everyone's help to organize a big demo in a short amount of time! Please fill out this sign-up form.
This is Rosh Hashanah so some of you will not be able to attend. It's timed with the Global March to End Fossil Fuels just before UN Climate Week. We regret the conflict.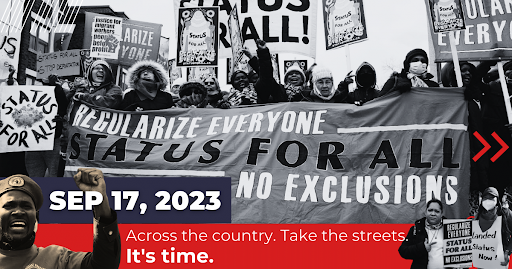 Migrant Justice Day of Action
Sunday September 17, 2023
Meet at Yonge and Bloor at 2:00 pm
The day before Parliament resumes, Migrant Rights Network is holding Regularize Everyone: It's Time rallies across Canada, including Toronto.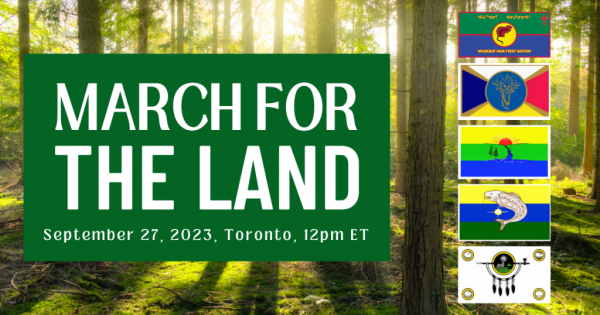 Land Alliance March
​September 27th, 2023
Grange Park, Toronto (behind the Art Gallery of Ontario)
Five First Nations from Northern Ontario will come to Toronto to lead a march calling on Premier Ford to end unwanted mining activity on their Territories. These five strong First Nations have formed a historic alliance to protect their lands and waters in the face of mounting concerns about encroachment on their territories by mining exploration companies who have been enabled by the Ford Government.
This is a family-friendly event. Rain or shine!
There are several ways you can support the Land Alliance.