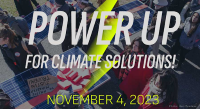 Say No to Polluting Gas Plants
You are invited to join us this Saturday at Jimmie Simpson Park, 872 Queen St. E. at 12 noon to raise our voices together.  There will also be another Toronto demo as part of a cross-Canada day of action to 'power up' renewables on Nov 4.  That will also be at 12 noon, at City Hall. supporting Good Green Jobs for All.  
Please note that we'll add your name to our newsletter list for updates, you can unsubscribe at any time.
A petition for a renewable energy future rather than expanding fossil gas on the electric grid across Ontario will be presented in the Ontario Legislature this month.
Working together we can make this transition happen!
Learn more at Global Power Up