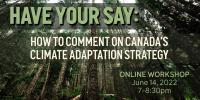 On June 14th, ClimateFast, in partnership with Toronto 350, Climate Legacy and Nature Canada, held a webcast to encourage people to participate in the National Adaptation Strategy consultation. The consultation period will end on July 15th.
About this event
Canada's changing climate is causing deep and lasting impacts on our society, economy and environment. The Government of Canada is holding a National Adaptation Strategy Consultation until July 15, 2022 to collect ideas and comments for the development of a Canadian blueprint for climate preparedness.
ClimateFast and Toronto350 have organized this joint workshop to explore the topics and make it easier for you to participate in this public engagement process. This is our opportunity to express our priorities and help to shape the future of our country.
The workshop was moderated by Tiffany Regaudie of Toronto350.
Teagan Yaremchuk, Nature Network Organizer, and Michael Polyani , Policy and Campaign Manager for Nature Canada talked about why the National Adaptation Strategy is important and what's happened so far. They shared Nature Canada's recommendations and what they would like to see in the final strategy.
Emily Bider, Communications Coordinator for Climate Legacy, explained how to navigate the process, and the different ways to participate.
Susan Bakshi introduced a crowd-sourced toolkit with information and suggested responses. Susan is a volunteer with both ClimateFast and Toronto 350.
Following the presentations, Colleen Lynch moderated a Q&A session. Colleen is a volunteer with both ClimateFast and Toronto 350.
We then broke into smaller groups to discuss ideas of what to submit and how. Each group was led by a facilitator.
More Information
People living in Canada are already witnessing and experiencing devastating impacts of climate change. Canada's climate is warming two times faster than the global average, and three times faster in the North. Across the country, the impacts of climate change are already affecting our communities, economy and environment, so it is critical that we develop strategies that will create safe, green and just communities.
Long term goals and mid-term objectives of the National Adaptation Strategy are listed in this discussion paper, within five priority sections:
1. Thriving Natural Environment
2. Disaster Resilience and Security
3. Health and Well-Being
4. Resilient Natural and Built Infrastructure
5. Strong and Resilient Economy
Email submissions can be submitted to adaptation@ec.gc.ca.
The deadline for submissions is July 15th, 2022.
This is an online workshop.
Register now and we will send you the Zoom link on Monday, June 13th.