Municipal elections will take place across Ontario on October 24, 2022. 
ClimateFast is one of several organizations that have developed tools and resources to help you find a candidate that will be a climate action champion. 
Municipal elections are important!
Municipalities are responsible for many services that affect people's everyday lives – water, sewage, waste, public transit, land use planning, parks, housing, public health, emergency services and many others that have a strong impact on community wellbeing.
About 70 per cent of the world's greenhouse gas emissions (GHG) can be attributed to cities, in four main areas: the generation of electricity, the heating and cooling of buildings, transportation, and solid waste.  Municipal councils play a vital role in reducing GHG emissions reductions and are better suited to implement climate mitigation and adaptation solutions than provincial or federal governments because of their strong connection to residents.
The vast majority of people are concerned about the negative impacts of climate change and climate solutions have become a priority for Canadians voters. However, greenhouse gas emissions continue to rise. Voter turnout in the 2018 municipal election was 38.29%, the lowest in the last 36 years. (AMO election statistics). 
In this election let's make sure we get the Council we want - a Council that will accelerate the pace of climate action, to create a more livable city now and to ensure a climate-safe future. 
---
Municipal Election Basics
Learn about municipal elections from the Ontario Association of Municipalities.
Read about the Ontario Municipal Elections rules guiding the 2022 municipal council and school board elections.
City of Toronto Elections
---
Resources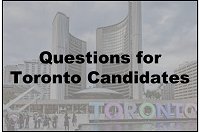 ClimateFast members gathered this list of questions for Toronto candidates on important issues pertaining to the Climate Emergency. They are focussed on the City of Toronto but many could be adapted to other municipalities. They cover the municipal action plan (Transform TO Net Zero Strategy), land use planning, public transit, energy and waste.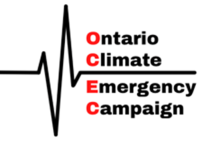 The Ontario Climate Emergency Campaign has developed a Municipal Candidate's Climate Pledge and are encouraging candidates to sign it. 


 Know Your Vote T.O. is a municipal election candidate civic learning website developed by the Toronto Public Library. Along with helpful information about voting in this election, they have developed primers on five big issues in the City, including Climate Action.

Just Recovery Kingston has created Our City: Our Vote, which is a fabulous resource for the municipal election.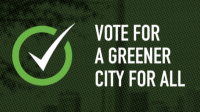 TEA's Greener City for All Campaign identifies key issues and calls for a candidate pledge. More than 60 candidates signed our pledge - you can access the pledge results here.

 
Read What Makes a Strong Environment Plan for Toronto to find out why October's Toronto city council election is important for the future of Ontario's environment.
Progress Toronto is working hard to elect the next generation of progressive municipal leaders at City Council and the Toronto District School Board. They are offering free trainings and workshops for their 2022 Election Training Series, and have compiled a list of top issues for Toronto City Council. 

Toronto Community Bikeways Coalition has created an excellent election resource, including road safety calls to action, a list of all candidates who have signed onto their calls to action (organized by ward); and their candidate endorsements for upcoming the election.

Watch Hope & Climate Action at the Local Level: 2022 Ontario Municipal Election - a pre-municipal election webinar to learn about the high level impacts of local level decision making and the power of municipal elections to secure your future amidst a climate emergency. Speakers Phil Pothen and Maude Barlow explored the big climate impacts of local decision making and the importance of municipal elections. Co-hosted by the Ontario Climate Emergency Campaign and the Ontario Chapter of the Canadian Association of Physicians for the Environment.